Branded Lanyards - What Choose Them?
Lanyards as Marketing Tools
Lanyards can be branded with your company or product logo and message. If you're attending events such as exhibitions or trade shows, this is a great way to get your brand on display to your fellow attendees and can even act as an excellent ice-breaker - great for networking purposes.

And if you use your custom lanyards as promotional giveaways, your brand will be on display in the workplaces of your prospective customers for even longer!
Lanyard Printing & Branding Methods
Screen Printed Lanyards
Screen printing is the most common way to have your lanyards branded. Essentially a stencil of your design is created.

This stencil is then mounted over the surface of the lanyard and the ink is added and dragged across the surface by a squeegee to apply the design colour.

You'd be forgiven for thinking that the process seems a bit low-tech - the technique has been around in one form or another for over a thousand years. However if you're looking for a lanyard with sharp lines and accurate colours, then this is the one for you.
---
Heat Transfer Printed Lanyards
Heat transfer printing is perfect for more complicated designs that may include shading/colour gradients. The design is first printed in full colour process onto special paper.

This paper, complete with the design to go onto the lanyards is mounted onto the smooth polyester material and passed through a heat press.

The heat causes the ink to pass from the paper on to the lanyard material and allowed to cool/dry off.

The printed material is then ready to be cut to size and clips applied to yield the finished product.
---
Luxury Smooth Printed Lanyards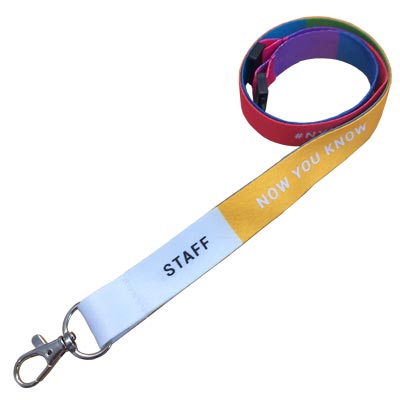 Smooth printed lanyards are a hybrid of the screen printed and the heat transfer printed lanyards and give text and/or logos a sharper-edged look with minimal colour bleed. Smooth polyester lanyards are branded using a two-step process:
- The background colour is first applied to the material by full colour heat transfer.
- The lanyard is then overprinted with a screen print in 1 to 4 solid colours as required.

Because the background colour is applied by heat transfer, the material can be a plain, solid colour with approximate matching to your corporate colours (based on the Pantone® system) or can be multicoloured, as bright as you like.
---
Embroidered Lanyards/Woven Lanyards
These lanyards are produced using large computer-controlled sewing machines that can produce several lanyards at once in up to 2 weave colours on to a base coloured lanyard. Production time on woven lanyards is longer due to the large number of stitches that must be applied to each lanyard.
These lanyards are best for simple logos and large text - not recommended for complicated logos and in particular for small text such as a company strapline e.g. below a logo. If your logo is complicated and/or consists of small text and your heart is set on having woven lanyards, we suggest that it would be better to go for a woven satin lanyard (see below).

---
Satin Appliqué Lanyards
Branded satin lanyards consist of a branded satin layer that is stitched on to a base flat-ribbed polyester layer. The satin component can be either embroidered in solid colours or printed by heat transfer (allowing colour gradients).
Satin is a much finer material than polyester and so allows a much greater level of detail to be realised than regular woven lanyards. Indeed, woven lanyards can have a maximum of two embroidered colours whereas satin lanyards allow up to 4 spot colours. These are also manufactured using computer control sewing machines.
The satin material can also be printed by heat transfer. As with regular full colour lanyards, heat transfer printing is great for more complex logos that may contain colour gradients such as shading, beveling or even just a large number of colours.
These lanyards are expensive to produce and so have a much higher minimum order quantity than the other branded lanyards described above. Production times are also around 3 weeks from artwork or sample approval, depending on the quantity ordered. We think you'll agree that they're worth it!
---