---



---
Ordering is Easy!
Simply contact us with your order requirements - material colour, print colours, quantity, delivery and billing address, attach your logo in a format we can use and we'll do the rest!

Our products are not only an essential item in the security conscious workplace but are also an excellent and inexpensive promotional product - a great way to get your brand on display and are perfect for holding ID badges, keys, whistles and even water bottles and can be further customised with a stylish quick release buckle, a printed badge reel and/or a luxury clip!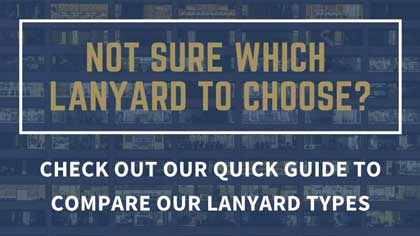 Trust The UK's Lanyard Specialists
Buying from us is simple and stress free. We've been supplying custom neck straps for more than a decade and work extremely hard to ensure we offer straightforward, no-obligation honest advice about which bespoke neckstrap will work best with your logo before you order and are happy to help with your artwork for production free of charge. With our wealth of experience, you can be sure that your order is in good hands.
Custom Printed Neck Lanyard Choices
Huge Choice Of Colours & Patterns
We carry one of the UK's largest range of plain coloured neckstraps in the fab range of colours and patterns shown below, and many with matching accessories. Where applicable the PANTONE® reference is noted below the colour.
You can search or browse by colour.